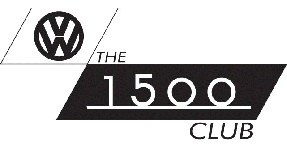 Guidelines
The 1500 Club is a small, tight group of early Type 3 owners. The club and site are dedicated to the VW Type 3 1500 produced from 1961 to 1965. Membership is free and there are no fees. All that is required of a member is to own a car that falls into the below guidelines.
Guidelines for membership:
1) VW Type 3's built from 1961 thru 1965.
2) Cars will not need to retain the original 1500cc displacement but motor must be stock in appearance.
3) Paint colors must be from the mid-1960's VW era.
4) Cars must retain the stock rims & stock ride height.
The 1500 Club's intent is the
preservation & restoration of the early VW Type 3 models
. I hope to provide a collection of early T3's that meet a standard close to which they came with from the factory. Stock and unmodified is the theme. These early cars reflect an innocent, simpler time for the Type 3 and VW.
If you would like to become a part of the1500club.com please feel free to email me,
Jason Weigel
1500 club founder. Please send a description of your car and a brief story of how you found it with JPG pictures (850 pixels or larger). Upon approval to the club you will receive a permanent spot on the website gallery and archive. A club sticker and certificate reflecting your cars authenticity will be sent. You will be a part of some of the best stock T3's in the world. Your efforts in accuracy will hope to be an inspiration to others in keeping or restoring their early Type 3s to stock & original condition.